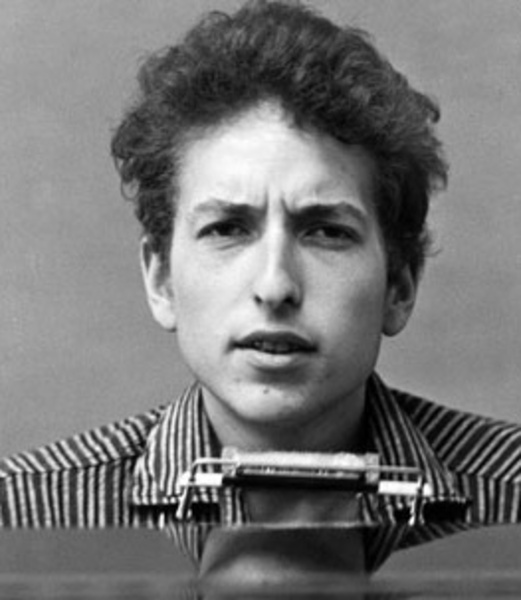 It's time to go back to school. Time for reading, writing, and 'rithmatic all over the world. Just in case your school's curriculum has yet to note that times have been a-changin' for more than half a century, let's make it clear here and now that a class in Bob Dylan should be required for all. Whether you are homeschooling or getting ready for your new locker, here is a back-to-school primer for your Dylan studies, A-Z.
A
ugustine
Nearly every song on John Wesley Harding has a main character shrouded in gray–from the Landlord to Tom Paine. The hero of the album might be Saint Augustine, a fantastical, real life Late Antiquity church father drafted into Dylan's reworking of labor standard "I Dreamed I Saw Joe Hill" via a dream of martyrdom that appears often in Dylan's work. Think "Blind Willie McTell" tracing Dylan's fantasies of America as a place where "many martyrs fell." In "I Dreamed I Saw St. Augustine," Dylan sings a sad complaint that "No martyr is among ye now" while the singer, who had left public life at the height of his powers, returns from a public death with an enigmatic album, an altered sound and appearance, and no further comment.
Dylan is the master of the rock 'n' roll epic. Few roll with the color, humor, and cinematic scope of "Brownsville Girl." No one knows who is who, but someone got off track. In fact, "t
he only thing we knew for sure about Henry Porter is that his name wasn't Henry Porter."
It's one of the states in one of the countries that Dylan calls home. He dedicated not one but two Theme Time Radio shows to it. But what more compelling reason for California in our primer than it inspiring this line from the song "California" recorded early in Dylan's career and released much later:
Well, I got my dark sunglasses
I got for good luck my black tooth
I got my dark sunglasses
And for good luck I got my black tooth
Don't ask me nothin' about nothin'
I just might tell you the truth
Fittingly, the word "desolation" comes from the Latin word desolare, desolatum, meaning "to forsake." Dylan literally sees his generation literally forsaken, frozen and dead, forcing him to create a new matrix for living. So he stares back at the world and everyone in it and

rearranges their faces

and gives them all another name. Now that's rock 'n' roll.
As I
wrote in a review

of Todd Haynes' sort of Dylan biopic I'm Not There some time ago, Elijah might be the best prophet for thinking about rock and roll prophecy in general and Dylan's prophecy particularly. Stories of Elijah's countless masks, rages, and demands animate the Hebrew Bible. In Jewish commentaries and folklore, Elijah can be found everywhere, in disguise, at the gates of a city in the morning and in the houses of royalty by night; he blesses the poor, unsettles the rich, and continually shuffles the deck of fate with his many faces, always in disguise, keeping people on their spiritual toes because of the possibility that he might actually be near. Yet Elijah is most famous for the moment he does not arrive at all. Remind you of anyone?
Last year Dylan was awarded France's highest honor, the Legion of Honour.

The Guardian

reported that the award was temporarily put on hold after the grand chancellor of the Legion, Jean-Louis Georgelin, declared the singer was unworthy of it, citing Dylan's anti-war politics and use of cannabis as key reasons to block his nomination.
More on this important point later.
Talking about The Basement Tapes jem which provided the name for Todd Haynes' film, Robbie Robertson suggested that "Going, Going, Gone" is the studio release song closest to plunging the depths reached by "I'm Not There." And it quotes grandma.
H
ow Many Roads Must a Man Walk Down Before You Call Him a Man?
So begins "Blowin' in the Wind." An additional question might be: Can you imagine the world without this song?
Because "I and I" includes the line "I made shoes for everyone, even you/but still I walk barefoot" we add it to the primer. There are many other reasons as well, of course, but that reason (and all of those shoes) are more than enough.
J
esus

It's simplistic to say that Dylan had a "Jesus period" when he released a series of evangelically charged albums in the late seventies. Something certainly caught fire, but falling in love with Jesus, his message, the passion he invokes in music-
–
these are all so very much a part of of what makes Dylan great in different faces and names throughout his career. Even on the Christmas album. Every period is his Jesus period.
K
nockin' on Heaven's Door
Everyone sings this song
–even Guns 'N' Roses–
but it's hard to imagine a version more potent than Warren Zevon's, sung from something like a death bed recording session on his last album. It may have taken Dylan four minutes to write it, but it just keeps being rewritten.
L
ast Thoughts on Woody Guthrie
Even if his high school yearbook lists his life ambition as being to "follow Little Richard," the master teacher of at least the first portion of Dylan's career is Woody Guthrie. "Last Thoughts on Woody Guthrie," written and performed in 1963, is as loving an ode of a young man to his teacher as any I know. It ends like this.
And where do you look for this hope that yer seekin'
Where do you look for this lamp that's a-burnin'
Where do you look for this oil well gushin'
Where do you look for this candle that's glowin'
Where do you look for this hope that you know is there
And out there somewhere
And your feet can only walk down two kinds of roads
Your eyes can only look through two kinds of windows
Your nose can only smell two kinds of hallways
You can touch and twist
And turn two kinds of doorknobs
You can either go to the church of your choice
Or you can go to Brooklyn State Hospital
You'll find God in the church of your choice
You'll find Woody Guthrie in Brooklyn State Hospital
And though it's only my opinion
I may be right or wrong
You'll find them both
In the Grand Canyon


At sundown
M
arijuana:
The French were right. Dylan smoked a lot of pot. Maybe he still does. But could there have been a more important joint smoked during the Decline and Fall of Western Civilization that the one Dylan used to turn on the Beatles?
N
orth Country:
Wise women and men have made the convincing case that without contextualizing Dylan's vision in the Iron Range of Northern Minnesota, you just cannot understand him. I buy it.
For the haunting electric violin played by Scarlet Rivera (not Einstein), for a lyric easily inserted into the
Song of Songs
or the Zohar, for a narrator confusing sister, father, lover, and wife, and for appearing on Desire, "Oh Sister" gets the nod.
It's hard to appreciate Dylan's resurgence in the 1990's without considering Greil Marcus' book The Old, Weird America: The World of Bob Dylan's Basement Tapes. Marcus writes so beautifully and thoughtfully about some of the possible secrets of Dylan's magic, it is tempting to think he somehow opened new seams for Dylan to connect and reconnect with audiences. In proposing Harry Smith's Anthology of American Folk Music and Dylan and the Band's The Basement Tapes as vessels of kindred spirits of America's "invisible republic"
–

which was the original title of the book

–

Marcus goes as deep and as convincingly with pop as anyone ever has. His take on the old if not ancient iterations of "Pretty Polly" from the British Isles to Kurt Cobain captures the essence of his approach, with Dylan both a witness and a driver in the story he tells.
On an album that includes "Like a Rolling Stone," "Highway 61 Revisited," and "Desolation Row," it is hard for even a classic song of longing like "Queen Jane Approximately" to stand out
–b
ut it does. Juxtaposing the words "approximately" and "queen" in a song title is already such a clever and compelling reach for the pop of his time, the fact that the song is just the invitation for the heart breaker to consider coming back makes the whole jangling journey a killer.
Dylan was hanging in his old neighborhood in the mid-1970's, even popping into gigs of old friends to lend a guitar, vocal, or harp. The Rolling Thunder Revue was an unwieldy attempt to capture some of the spirit of the Greenwich Village scene of the sixties
on the giant stages that Dylan's star now demanded (including the Astrodome.) Allen Ginsberg, Joni Mitchell, Joan Baez, Ramblin' Jack Elliot, Phil Ochs, and Roger McGuinn were just a few of his guests. The 4-plus hour film Renaldo and Clara (which few have seen though many have panned) as well as monster versions of chestnuts like "One Too Many Mornings" and "Lay Lady Lay" and a wild visit to Jack Kerouac's grave
–
Dylan in a white mask of death every step of the way
–
were just a few of the results.
There have been more than a few arguments about the central figure of one of the Band's last beautiful original tunes. Robbie Robertson, a man that few claim to trust as a historian but many rely upon as a teller of myth, suggests he wrote it about Dylan edging back to the stage after years away. Rick Danko sings it and it is indeed a gorgeous, sympathetic take on what it takes to "sing just like a bird."
No album, no
Chronicles
, no interviews, and no concerts say as much about what makes Bob Dylan tick musically than the 100 radio shows he recorded of "dreams, themes, and schemes" on Sirius XM. Humor, pathos, recipes, crooners, gangsters, TV and film clips, and music, music, music. Welcome to Bob Dylan's brain. Doctorates will be written about this show someday.
Like "Blind Willie McTell," a true classic which never received a proper studio release, "Up to Me" appeared as an outtake. For "Up to Me" this was 1985's
Biograph
, which also kicked off the trend of rockers curating box set retrospectives. "Up to Me" is studded with lyrical gems like this:
The only useful thing I did when I worked as a postal clerk
Was to pull your picture down off the wall near the cage where I used to work...
Dylan's waste bin songs often surpass the best numbers of the first team.
Professor Thomas Crow once gave a terrific talk at the Guggenheim Museum in New York about the period in 1965 when Bob Dylan and Andy Warhol essentially held the world of art and culture in their hands. It was a competition
–
for influence, people, hipness, money
–
and until his motorcycle crash, Dylan was winning as he symbolically took one of Warhol's Elvis cut-outs from the Factory in the back of a convertible and drove away. The Velvet Underground were one of Warhol's biggest gifts to the era, especially Lou Reed, a rocker even crankier and meaner than Dylan and, according to some, just as important to rock 'n' roll.
Dylan arrived in town at Albert Grossman's suggestion. Woodstock was a long time artists' and freaks' town, and this is where Dylan holed up (along with the Band) after his motorcycle crash. Some say the Woodstock Music and Arts Festival was located and named as it was in order to pull Dylan out of seclusion and onto the stage. It did not work.
It's always been their business, of course, and that's why it was so stunning when the song "Sara" appeared on Desire. Blood on the Tracks
–
known as Dylan's divorce album and which he claims he doesn't understand how people can stand
–
carries so much pain, presenting all kinds of suggestions of the dissolution of a marriage. But "Sara" named it in a way almost too hard to hear.
Y
ou Don't Need a Weatherman to Know Which Way the Wind Blows
One of hundreds of almost throwaway Dylan lines that sound like Scripture he pinched, this one capped "Subterranean Homesick Blues"
–
proto-rap, proto-punk, proto-MTV video, and also featuring Allen Ginsburg davening in the background as Dylan literally flicks signs into the air. The Weather Underground used this phrase to name themselves, emerging from the shards of sixties activism and revolutionary communities as home grown terrorists. That's what was blowing in the wind.
Bruce Springsteen once called him a "moralist in wolf's clothing" and Dylan dug him. When Warren Zevon was dying of cancer, Dylan sang his songs on stage often. One of his favorite's was "Mutineer:"
Yo ho ho and a bottle of rum
Hoist the mainsail–here I come
Ain't no room on board for the insincere
You're my witness
I'm your mutineer
I was born to rock the boat
Some may sink but we will float
Grab your coat–let's get out of here
You're my witness
I'm your mutineer
I once owned an LP of a radio interview with Bob Dylan from the mid-'80s. He was asked if there was another trade he would ply if he had not wound up a singer. He was mumbling in the answer, but his sounds ended in a final clear phrase: "Or maybe I should just be on a boat." Aren't you glad he spends so much time on land too?
Have a happy school year, friends.